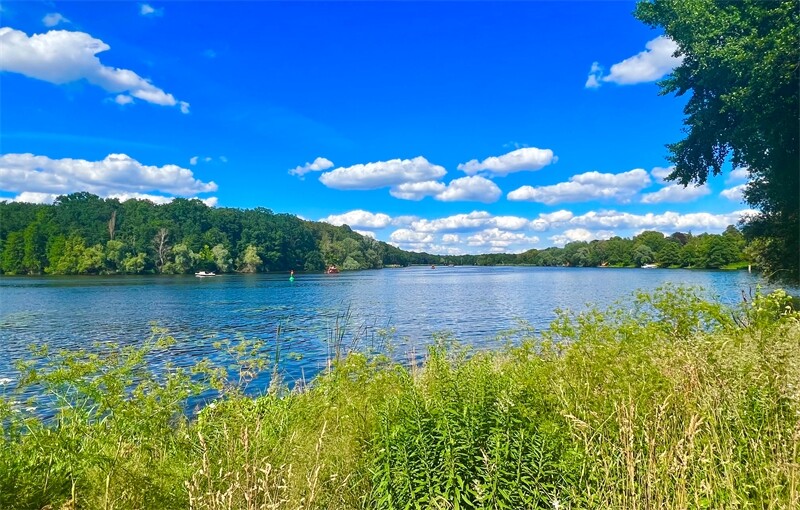 Berlin Kladow
DIVISIBLE APPROX. 2,900 SQM OF WATER LAND with building permit for new construction!
m² Landplot

2.900
m² Living area

600
Price / m²

7.500 €
Price

4.500.000 €

*
It is a divisible approx. 2,900 sqm building plot on the water with a building permit for new construction with a two-family house with approx. 600 sqm of living space and a car lift / underground car park.
Basement / daylight: pool, hobby / fitness room, sauna, boiler room, utility room, terrace, hallway, garage with elevator, guest toilet
Ground floor: spacious living and dining room with open kitchen, garage with elevator, guest toilet, cloakroom, sunny balcony
Upper floor: exclusive bedroom with bathroom en suite, modern children's room, dressing room, guest toilet, bathroom, sunny balcony, garage with elevator
Pointed roof: roof terrace, storage room, elevator
The supply of gas, water supply and sewage, electricity and cables is secured on the road.
A two-storey development with 0.2 GRZ and 0.4 GFZ is possible. There is no tie to a property developer, architect or house builder.
The respective parties bear the costs of the notary fees for the development, division and surveying.
A building permit for a two-family house with elevator / underground parking is already available. The property can be built on immediately.
We will be happy to provide you with further details on request!
A unique address in a first-class waterfront location in Potsdam-Groß Glienicke - with a view of the Groß Glienicker See. In the midst of the cultural and landscape monuments, the location offers excellent recreational and leisure opportunities.
Our service for owners
We are discreetly and competently at your disposal for the sale of your property from the beginning to the finished transaction.
Each step takes place in consultation with you.
You decide on the sales strategy of your property, whether discreet and off-market or qualified marketing in print and online media.
We always have the right buyer.
We also evaluate your property free of charge, based on the current market value.
We would be happy to advise you personally in our office, by phone or by email, free of charge!
We are happy to hear from them!
www.immo-boerse.com
ID: AIB 13537
Free of Charge Consulting
Financing example for this object
Price
4.500.000 €
Equity
1.029.060,00 €
Monthly payment
12.005,70 €

Non-binding financing example status on 30.11.2023.
* The purchaser must pay the commission fee of 7.14% of the purchase price incl. VAT - as long as the object exposé does not contain any other information.
Haven't Found the Right Thing?
You can get the best search results from your personal advisor who knows the general housing market well. This representative provides you with tailored offers and notifies you when new properties are available for purchase before they are even searchable online!
Contact your advisor now or request a free callback!